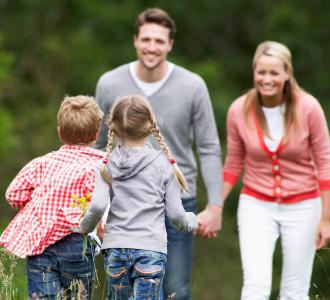 Very money matters
Whether it's re-thinking your budget or recycling, we've put together our favourite tips to help make your money go further

Useful things you can do
Here are a few general hints and tips about money matters and using credit, to help you get started on a plan of action. There are lots of ways to make the most of your time and money.
Mindful spending

How to make great decisions

Have a plan

Let's set some helpful goals

Shop smarter and greener

Clever ideas for you and the planet
Mindful spending
Sometimes managing your finances can feel overwhelming but you can take back control just through some simple planning and spending more consciously.
Keeping on top of things
Make a note of all the things that you know you must pay for each month and subtract this amount from your net income (the amount of money you receive each month or week). That will give you a figure that you know you can use for life's little extras, and you won't find yourself being surprised by how much or little you've got left in the bank.
Be a budget boss
You don't need to be a whiz with excel to make a budget. You could use a personal finance or money management app or buy a notebook and write it all down, whatever works for you. The main thing is that you know what's coming in, and what's going out and can see where your money could be saved.
Set up separate pots in your online banking if this is a feature, or you could open a savings account and set up a standing order to make a regular payment, however small, to it each month.
Consider using good old-fashioned cash rather than your card for your everyday bits, your top up shops, lunches, drinks and travel costs. It can really help to see and feel what you have left.
Clever spending all year round
It's always someone's birthday, so get ahead and order cards in bulk or buy a load when there's an offer on. Look out for deals and discounts during the year and avoid last minute panics to spend less and feel a bit smug too! For the bigger birthdays, weddings, and whatever else needs something special, you can pay for more expensive gifts over a few months and pay it off a bit at a time instead of all-in-one go.
Think it over
We all love the buzz of a new purchase, that little pick-me-up or treat that can brighten our day. But always be careful that you aren't just buying things for the sake of it. Ask yourself if you really need it, are you going to use it or will it just get relegated to the back of the cupboard. Saving a product to come back to later, rather than ordering on impulse can give you time to consider whether it's right for you and whether you really need it.
Buy Now Pay Later advice
Whether you use Buy Now Pay Later with us, or elsewhere, these payment options are a great way to split the cost of bigger orders into more affordable chunks over a longer period. You can pay them off along the way to fit around your other outgoings.
Buy Now Pay Later doesn't mean Buy Now Pay Never
Whenever you use Buy Now Pay Later to purchase something, make sure you know how and when you'll be able to pay for it, and it's always good to pay a day or two before the final date just in case your WIFI lets you down at the last minute or something crops up and you forget.
Have a plan
Life's for living, and some simple steps now, will help make memories in the future.
For now, and later
Some goals will take longer to achieve and are a way off in the future, like saving a deposit for a house or getting the funds for that new fitted kitchen. It's good to have some shorter-term goals too, like saving a bit each month to buy yourself something you've wanted for a long time, so it feels like a treat.
Don't let it get you down
Always consider rising inflation when you're planning to save up and buy something and allow a little extra for prices going up.
Give yourself space
It's ok if your goals don't always go to plan – that's life. Just take stock and keep going, you'll get there in the end.
Be a savvy shopper
Food shopping can be a huge weekly expense, but it doesn't have to be. Make and stick to a shopping list to avoid temptation or do it online and stop the kids adding little extras into the trolley! Look out for some decent online discounts and shop around to use them before they expire.
Sensible saving
Put as much as you can afford away each week or month, so you've got a little pot to dip into in case of emergencies. Challenge yourself to have some 'no spend' days each week and put it away instead.
Delve into your Direct Debits
It's a good idea to check your Direct Debits every now and again to make sure you're not paying for something you no longer need or use. Check with your Wi-Fi or phone provider to see if you can get a cheaper deal to help reduce your bill. If you're out of contract soon, 'SIM only' deals are a great way to reduce your bill if you're happy to keep your current phone.
Shop smarter and greener
We all know we need to do more to help protect our planet, so here are a few ideas that'll help your money go further AND be eco-friendly at the same time.
Resell, recycle, reduce
It's never been easier to sell your unwanted things online, so you can refresh and renew your home and wardrobe with a couple of clicks. And it's never been cooler to buy pre-loved and vintage.
Give your clothes a second life by selling them online, and on the high street too, with offers for money back when you recycle your unwanted stuff – anything from returning your empties to your old bra!
Not only is it money off something else you need, but it all helps to reduce waste and landfill. Trade-ins on your old tech are a great way to save money when you need to replace or upgrade your next phone, tablet or laptop.
Make do and mend
Breathe life back into clothes and household objects with a quick repair, or a total facelift. With some inspiration from Pinterest or Instagram, some skills and know-how from YouTube, anyone can make the most out of what they have.
From re-covering a stool with some fab fabric, cutting the bottom off some jeans, or the waistband off an old sweatshirt, or getting the bobbles off your favourite (and very tired looking) jumper, you can fall back in love with your stuff, and enjoy it for longer.
Think about how you can reuse and recycle things you already have, and only buy something new if you really need it or you're going to get some definite use out of it. Once you start changing the way you shop, these saved pennies will soon add up and you'll see a difference!
Seen it? Want it? Do it!
It's never been easier to have a go yourself. Recreate your favourite looks for a fraction of the price by buying lookalike goods and copy colour combos you'd never have thought of yourself, to create designer looks in a weekend.

It's ok to ask for help
Life is full of bumps and sometimes it's just not possible to fix things on your own. That's ok. You should always reach out and speak to us if you've run into difficulties – our team are trained to help you get through it, so just give us a call and we can have a chat.
Talk to us about...
Security or fraud worries
Tell us about financial difficulties
Everyone can have problems from time to time and we can help you come up with a plan to manage your Very account.
Please do not hesitate to get in touch with us. If you would like to chat with our dedicated team to support you in the process of managing your payments.
When you contact us we'll ask you some questions about your circumstances and income and outgoings to find out the best way to help you.
You can also find helpful advice through MABS (Money Advice & Budgeting Services) www.mabs.ie
Tell us about a life event
There are times where it can be helpful to tell us about your situation if it affects how you manage your Very account.
If you're experiencing an unexpected life event, like losing your home or job, or you're going through a separation or divorce, or have lost someone close, please tell us more about how we can help.
Tell us about mental health concerns
There are times where it can be helpful to tell us about your situation if it affects how you manage your Very account.
If you're going through a period of poor mental health, please tell us more about how we can help.
We'll use this information to change the way we support you. This might include:

Changing how we contact you.

Letting you know about charities and organisations who can help you.
This information will go to a Very specialist customer services advisor who'll review your account and see if there's anything we can do to help. We'll never share your information outside of The Very Group, and we won't record anything about what you disclose without your permission.
Let's work this out together
If you are concerned about how much interest you are paying, you may need some help to work out what to do. Paying off a bit more each month can make a big difference to the interest.
Top Tip: All Very payments are due on the same date every month so you can plan and budget easier.
Security or fraud
Scams come in all shapes and sizes, from dodgy emails to fake sites. And they keep changing to try and trick you. Stay one step ahead by learning about the latest scams.
If you have received our notification email, advising there has been an attempt to unlock your account or a 'forgotten password' has been requested and it's not you that has attempted to log in to your account, please contact us immediately and our Fraud team will assist you.

Very Account
Right now, it can be tough to manage everything in the household, so we've put together some useful tips and tricks to manage your Very account and help you do just that.

You don't have to open a credit account to shop at Very, however our credit account allows you to spread the cost and pay later if necessary. It's always up to you!

You can always avoid paying interest, it's designed to help you do just that. You can pay in full at any time or Buy Now Pay Later, ensuring the balance is paid before the delayed payment period ends.

You can ask us to review your credit limit at any time to a level you're comfortable with. Whether you'd like it reducing or increasing, contact us here.

Payments are due on the same date every month so you can plan and budget more easily.

If you are paying interest on your account, the more you pay off and the sooner you pay, the less interest you'll pay.

Tip - Check out your statement for the full amount in case there are any extras like delivery costs in there.

Keep your delivery costs down and let us send your purchases and presents to you, and to friends and family for FREE to one of thousands Parcel Connect stores. At the checkout, select Click & Collect and the collection point you'd like to collect your parcel from.

Make your money go further by keeping an eye out for deals, discounts, voucher and promo codes. We update these all the time, so it's worth checking regularly.

Avoiding interest
Having an account where interest is a possibility can seem scary, but you NEVER have to pay interest with Very, so long as you follow a few simple steps.

Pay your full account balance by your payment due date.

Don't forget about delivery charges - check your statement to make sure you know the right amount before you pay.

Pay off your Buy Now Pay Later transactions in full before the end of the delayed payment period so you can avoid all interest on them. Remember, even if you can't pay the full balance there is still a benefit in paying what you can within the delayed period as this will reduce the overall amount of interest charged.

Please do not hesitate to get in touch with us. If you would like to chat with our dedicated team to support you in the process of managing your payments.