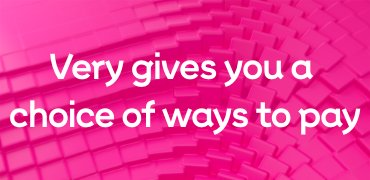 Here's a quick guide to our payment options
so you can find out more and decide which suits you best.

Spread the cost
Choose to make a minimum payment or more when it suits you, on a fixed monthly date.
Find out more

Buy Now Pay Later
Delay paying anything for 6 months when you spend over a certain amount.
Find out more
Subject to credit and account status.

Pay now
Use your credit or debit card to pay in full today.
Find out more
Representative 39.7% APR variable
Very account fact check
Q.
I'm worried about paying interest
A.
You can ALWAYS avoid paying interest, it's designed to help you do just that. You can pay in full at any time or Buy Now Pay Later, ensuring the balance is paid before the delayed payment period ends.
Q.
Don't I need a credit account at Very to shop with you?
A.
No, you can shop with or without having a credit account. However, Very credit account allows you to spread the cost and pay later. It's always up to you!
Q.
Do I have to put everything on credit with Very?
A.
No, not at all. You can pay with a debit or credit card whenever you like and spread the cost whenever you want to. It's really that flexible.
Q.
Does my payment due date change whenever I place a new order?
A.
No, at Very you'll get a fixed payment due date which happens to be the same date each month so it's really easy to remember and budget too!
Warning: This is high-cost credit. Consider alternative options before applying for this credit, including alternatives from other lenders regulated by the Central Bank of Ireland.
39.7% APR variable
Representative example based on minimum monthly payments.
€200 purchase 22 monthly payments of 10% of balance (or €10 if greater)
Rate of Interest 39.7% APR
Total amount €256.23
If you pay more than the minimum monthly payment the loan will be cleared in a shorter period of time.
Terms and Conditions
Over 18s Only. Registered Office: Very, Cape House, Westend Office Park, Blanchardstown, D15Y9DV. Registered Number 106058
Shop Direct Ireland Limited trading as Very is regulated by the Central Bank of Ireland.
NOTICE:
Under the Credit Reporting Act 2013 lenders are required to provide personal and credit information for credit applications and credit agreements of €500 or above to the Central Credit Register. This information will be held on the Central Credit Register and may be used by other lenders when making decisions on your credit applications and credit agreements.