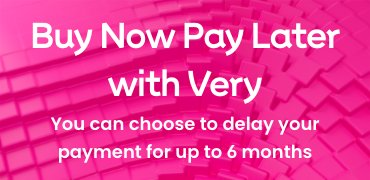 What is Buy Now Pay Later?
Buy Now Pay Later is an interest bearing option that allows you to delay payments on your purchases for up to 6 months. The delayed payment period starts from the date of order (including pre-ordered items and those not ready for immediate dispatch).
Buy Now Pay Later gives you the freedom to buy what you need now and pay for it later. It means you can delay paying anything for 6 months on selected orders worth € or more. Plus, you can avoid paying any interest if you pay for your order in full within this time.
and delay your payments for 6 months
How Buy Now Pay Later works & how to avoid interest
How it works
Simply click on the "Buy Now Pay Later" link which appears during checkout when buying an item worth € or more. Choose to either pay in full within 6 months and avoid any interest or pay some or nothing for 6 months and interest will be charged on remaining balance – 39.7% APR. Buy Now Pay Later is available to customers who have held a Very credit account for 6 months subject to the account status.
Warning: This is high-cost credit. Consider alternative options before applying for this credit, including alternatives from other lenders regulated by the Central Bank of Ireland.
39.7% APR variable
Representative example based on minimum monthly payments.
€200 purchase 22 monthly payments of 10% of balance (or €10 if greater)
Rate of Interest 39.7% APR
Total amount €256.23
If you pay more than the minimum monthly payment the loan will be cleared in a shorter period of time.